Incentives
Een niet onbelangrijk communicatiemiddel om uw medewerkers en/of klanten en relaties eens te belonen. Of het nu een congres is op een exotische of swingende locatie of een sportieve incentive, wij bieden u de oplossing voor het organiseren van creatieve incentives geheel op maat. Hieronder treft u een aantal voorbeeldreizen aan die u wellicht op ideeŽn kunnen brengen. Dit zijn slechts voorbeelden. Aan de hand van uw wensenpakket stellen wij voor u, waar ook ter wereld, een originele incentive samen. Centraal in de gehele organisatie van de incentive staat de persoonlijke begeleiding.
Maar met incentives kunt u nog veel meer bereiken. Zie ook MVO, Maatschappelijk verantwoord Ondernemen. Zo werken wij o.a. samen met SharePeople.
• Missie

SharePeople brengt ondernemers in ontwikkelingslanden in contact met ambitieuze Europese professionals. Door lokaal kennis en ervaring uit te wisselen in real life management cases, versterken beide partijen hun professionele vaardigheden en leveren een bijdrage aan een betere wereld.
Wij brengen partijen bij elkaar en werken een incentive op maat voor u uit.
Meetings
Incentives
Congressen/Beurzen/Seminars
Events
(inhoudelijk, feestelijk, muzikaal en sportief)
MVO Maatschappelijk Verantwoord Ondernemen
!

Specials
Christmas Dinner in Paris
Captains of Industry: Plan your Business Christmas dinner a long time in advance!!
2 days trip to Paris*
Haute Cuisine and History in the Light City.
Enjoy an exclusive French Christmas dinner in one of the most finest buildings of Paris!
Enjoy the warm atmosphere and hospitality, enjoy art, music and French Fabulous cuisine
Enjoy the beautiful Christmas decorations by one of Paris' most famous decorators……
Day 1: Arrival of guests in Paris. Transfer to hotel.
Afternoon: Boattour and High Tea on river Seine.
Time to get changed.
Evening: Transport in luxurious touring car to dinner location.
Aperitif, followed by a piano recital by two top-pianists (quatre mains.)
Dinner. After the second course there will be a possibility to visit the art collection.
Continuation with main course.
Informal dessert, optional: dessert dansant.
The menu can be composed as desired. Highly recommendable is a traditional French Christmas dish like Dinde aux Marrons, Bûches de Noel etc.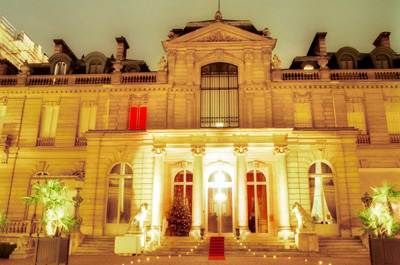 Day 2:
Guided walking tour in Le Marais and Place des Vosges. This quarter is the best Parisian example of end 16th, and 17th century architecture.
Informal lunch in a private Salon of Hôtel Carnavalet. This "Hôtel Particulier" is the museum of the City of Paris. An art historian will take you into the turbulent history of the city of Paris.
Afternoon: end of programme.
- hotelaccommodation: in one of the 10 Parisian Tophotels.
- all activities during the evening such as aperitif, piano recital etc. will be held at the same location.
NB: On request it is possible to add one or more days to your visit to Paris
NB: This kind of dinners can also be held in other countries like Scotland, Germany, Belgium etc.