Incentives
Een niet onbelangrijk communicatiemiddel om uw medewerkers en/of klanten en relaties eens te belonen. Of het nu een congres is op een exotische of swingende locatie of een sportieve incentive, wij bieden u de oplossing voor het organiseren van creatieve incentives geheel op maat. Hieronder treft u een aantal voorbeeldreizen aan die u wellicht op ideeën kunnen brengen. Dit zijn slechts voorbeelden. Aan de hand van uw wensenpakket stellen wij voor u, waar ook ter wereld, een originele incentive samen. Centraal in de gehele organisatie van de incentive staat de persoonlijke begeleiding.
Maar met incentives kunt u nog veel meer bereiken. Zie ook MVO, Maatschappelijk verantwoord Ondernemen. Zo werken wij o.a. samen met SharePeople.
• Missie

SharePeople brengt ondernemers in ontwikkelingslanden in contact met ambitieuze Europese professionals. Door lokaal kennis en ervaring uit te wisselen in real life management cases, versterken beide partijen hun professionele vaardigheden en leveren een bijdrage aan een betere wereld.
Wij brengen partijen bij elkaar en werken een incentive op maat voor u uit.
Meetings
Incentives
Congressen/Beurzen/Seminars
Events
(inhoudelijk, feestelijk, muzikaal en sportief)
MVO Maatschappelijk Verantwoord Ondernemen
!

Specials
Dutch traditionals in spring
For a short visit to Amsterdam it is very difficult to see all of the astonishing beauty this city can offer you. To make your visit to an unforgettable success it is necessary to make choices and first of all; settle yourself in an comfortable and central located hotel. This visit is suitable for visitors who are travelling further into Europe or abroad. In a minimum visit you will explore the maximum experience:' I AMsterdam'
Grand Hotel Krasnapolsky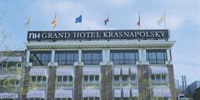 The luxurious hotel and conference centre is located in a fantastic central location overlooking DamSquare in the thriving heart of Amsterdam.
As the largest 5-star conference hotel of the Benelux countries, it boasts an impressive assortment of accommodation types and an abundance of facilities to suit the needs of both the leisure and business visitor. The 468 individual rooms and 6 Junior Suites are complemented by a diverse array of restaurants, bars and public spaces.
A fusion of the old and new prevails with regard to both styles of food and interior decor. Sample traditional Dutch cuisine in the sumptuous surroundings of the historical Winter-Garden and monumental Brasserie Reflet and indulge in Middle-Eastern and Japanese delicacies in Bedouin and Edo/ Kyo. The cosy Lounge complete with birds-eye view of the Royal Palace offers a leisurely space to unwind. In short, Grand Hotel Krasnapolsky has created its own unique "Village on the Dam" and even has its own landing dock for boats. Venture over the threshold and stroll round the stunning architecture of The Oude Kerk and Beurs van Berlage or walk the path of the stars at MadameTussauds. Whether for leisure or business, the outstanding comfort and flexibility of this lavish hotel is paramount.
Keukenhof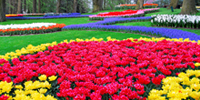 Keukenhof is the place where spring arrives in all its glory. Just imagine: 32 hectares of historic parkland brimming with flowering tulips, hyacinths, daffodils and other spring bulbs. Unique flower shows in the pavilions. And, in the midst of this overwhelming display of colour, striking work of art. This unique combination makes Keukenhof a feast for your eyes and a wonderful spectacle to photograph. And for your children there is also lots to do, with play areas, an animal meadow, a maze and a special 'Bollebozenroute' (a treasure hunt). Come to Keukenhof and enjoy the ultimate spring feeling.
Rijksmuseum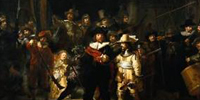 With close one million objects Amsterdam's Rijksmuseum is the largest museum of art and history in the Netherlands. It is perhaps best known for its collection of 17th-century Dutch masters, with twenty Rembrandts and many other highlights of the period, including works by Johannes Vermeer, Frans Hals and Jan Steen. One visit to the Rijksmuseum gives you an impression of 200-years of Dutch history.